Children's Grand Park, Amusement Park - Seoul

Children's Grand Park Amusement Park, Seoul
Just because you are on a preplanned work trip, doesn't mean you won't have the chance to explore a little bit of Seoul on your own, right? Absolutely! I was hoping to splurge a little but the dance academy I was at, was situated far from any malls or shopping district. Nonetheless, I had three hours while my students rehearsed in the auditorium so I took the opportunity to step outside of my comfort zone and explored what I thought was a "little park" next door. I did not know what to expect when I stepped in but wow, it turns out to be a huge little gem indeed. I loved the place.
Address:
216, Neungdong-ro, Gwangjin-gu, Seoul, Korea (Neung-dong)
How to get here:
Easiest via subway. Line 7. Exit 1 of Children's Grand Park Station. It would lead you to the main entrance of the park as pictured above.
When I walked through the huge entrance gate, the first thing I saw were the row of tall trees for at least three hundred meters and the shops were all closed shut. I'm guessing because I visited on a Sunday. I learnt from Jennifer (my Korean colleague) later on that Koreans believe that weekdays should be filled with productive activities (eg. work or school) to the brim and weekends should be spent with strictly, family, doing fun activities like camping or picnicking. I guess maybe that was why the shops were all closed - technically, shopkeeping is a job afterall.
Right smack in the middle of the tall trees was this loooong stretch of water fountains, which I later learnt is called the Rainbow Fountain - I have no idea why. Maybe because when the sun shines, the water form rainbows if you look at it at a certain angle? Idk. I continued walking on until I caught a glimpse of this:
For a moment, I thought that this was merely a display or memorial of some sort, because the carriage looks extremely old to the extent that plants were growing all over it. The whole atmosphere was super quiet too, but all of a sudden I heard the sound of launch and trim brakes and noticed a ride vehicle moving past from the tracks behind it. That was when I realized that the signage is actually an introductory board for the theme park behind these bushes!
I don't know if you could sense my excitement through reading this but words could not describe how overjoyed I was. It almost felt like I stepped foot into some virtual land that seemed like a hybrid between my two workplaces, Escape Theme Park & Universal Studios. The theme park was huge and the attractions were all spaced out with so much room to run around. Gosh, how I wish Singapore had the luxury of space like this. Our theme parks wouldn't feel so cramped up.
I was so intrigued into trying the attractions, unfortunately everything on the signage at the ticketing counter were written in Korean and no one seems to understand English. Right there and then, I realized that I was the only foreigner there. The park was filled with (mainly) students and every single person was a local. I felt so out of place for a moment, thinking how fun it would be to have my friends here with me and how much it sucks that I was missing the grand reopening of my own attraction....... and then I saw this:
Holy shoots. It was like an exact prototype of my Cylon Raider! The seats, the gates, the controls, the whole ride vehicle. I must have looked like a suspicious character, standing right underneath the ride track, trying to snap shots of the RV from the restricted gates but boy, was I amazed. The weird part is that the ride vehicle looks exactly like the ride from USS and the name of the ride (Family Coaster) is exactly the same as the ride from ETP. See what I mean by hybrid?
I was pretty amazed but as much as I wish I could purchase tickets to try the rides out, I couldn't find a way to understand their ticketing system or find anyone who could help. But that's alright, I went to get a cup of iced coffee from the cafe nearby and had fun spending the next half an hour people walking around the amusement park to just people watch. Pretty calming.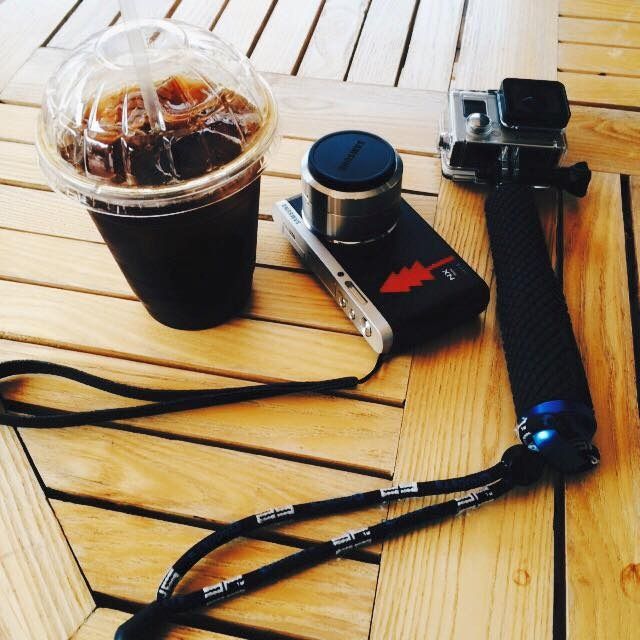 A whole variety of rides and barely anyone around, how awesome is that? It is an amusement park though (not a theme park) so there weren't much themed pieces or mascots around like what we have here. But it is such an adorable place, I must say. I could not resist an awkward selfie.
If you are around the area and looking for somewhere to go or something to do, this is the place. Although named
Children
's Grand Park, it is a place for everyone. I wrote about
exploring their zoo
, too. For more information on Children's Grand Park, please visit their
official website
or download their map
here
.