Review: Parkview Serviced Apartments (KL)
For all the times that I've been to Kuala Lumpur, I never thought that I would ever use Airbnb as an accommodation here. When it comes to booking a hotel vs an Airbnb apartment, the main difference is of course, the fact that room service exists in the former. But for this trip, we decided to try something different and we didn't regret it one bit!
Related: How I Choose My Accommodation
I've run through the process of booking via Airbnb during my visit to Sydney so I guess I'll skip that altogether and go straight to showing you the accommodation that we booked + why we booked it! If you need a discount for your first Airbnb booking, click here. If you have any questions, feel free to drop me a message or comment below :)
Why I Chose This Listing
I guess I'm pretty lucky that Fazwan always lets me make the travel bookings for us. I purposely searched for an apartment in the heart of KL city and stumbled upon this beautiful listing at Parkview Serviced Apartment. It was within our budget, at our preferred location, the apartment is beautiful with natural lighting, plus the owners were super-hosts. I'll elaborate more on that as we go along.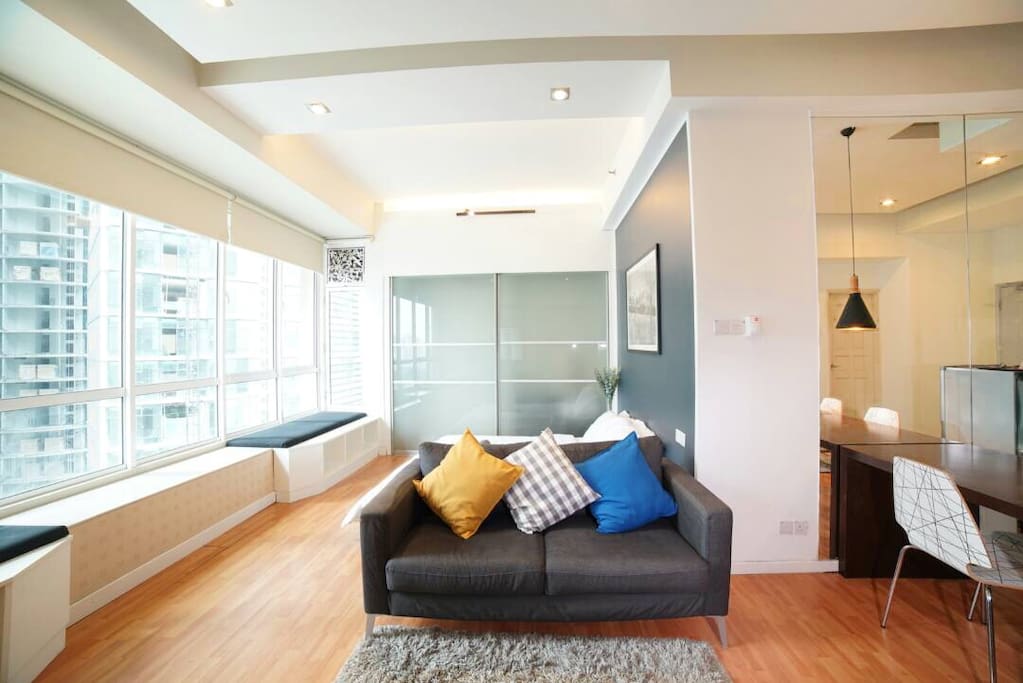 This photo is taken from the listing and I must say - the place looks exactly as how they were advertised. From the bright atmosphere to the cushions and the couch! This is super important because no traveller likes it when they have a certain expectation based on photos that have been uploaded, just to be disappointed once you turn the key to the front door. Ezza & I experienced that in Cebu and we couldn't wait to leave the moment we entered.
Upon confirmation of the booking, the host had given me the password for the letter box and all we had to do was retrieve the access card and key to the apartment upon arrival - we didn't have to meet anyone and the apartment is all ready for us when we arrived. Personally, I prefer this "self check-in" process rather than meeting the host for a house tour etc.
The check-in process was just as seamless as the conversations that I had with Peggy & Katherine, the co-owners of this apartment, who are also a super-hosts. This simply means that the host is very experienced, has received consistent high ratings from previous tenants and is highly recommended Airbnb itself - something I always opt for when booking with Airbnb, just so that I'll have a safe and seamless experience.
This was proven during our second night. One out of the two air conditioners in the apartment started leaking and when we woke up in the morning, the whole dresser was soaking wet. I texted Peggy to let her know of the situation (and also to save my own ass because I wouldn't wanna be liable if anything goes wrong) and she actually made the arrangement for someone to come down and get it fixed on that day itself. Amazing proactivity!
The Building + Area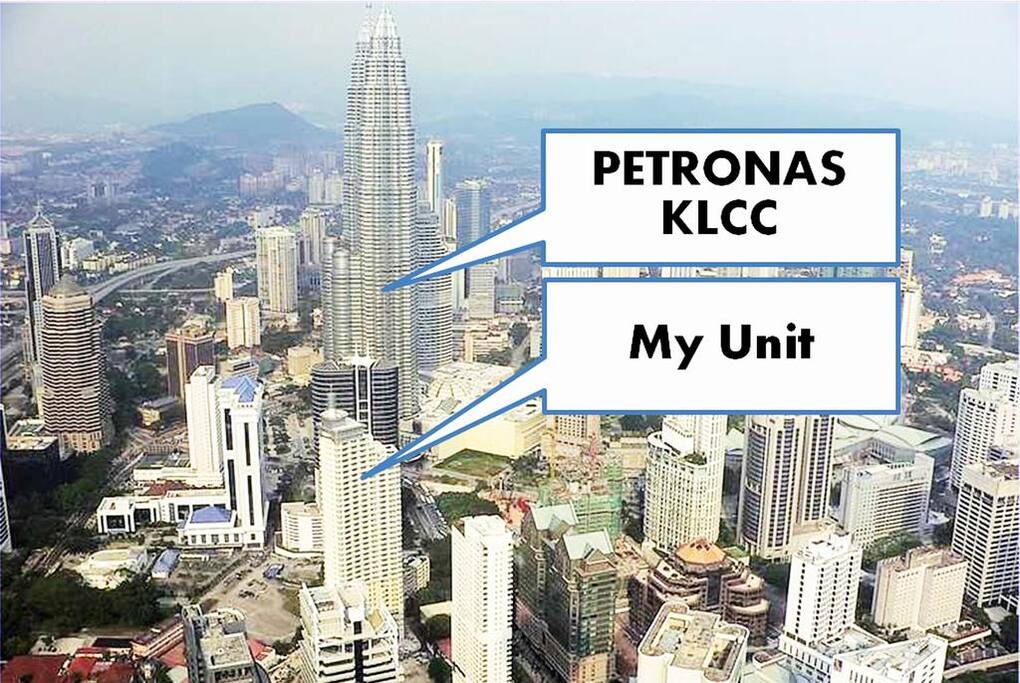 Grabbed this from the Airbnb listing - just to have an idea of how near the apartment is to KLCC. The Parkview Serviced Apartments building is situated amongst other high rise condominiums around KL's Golden Triangle. It takes around 10 minutes for us to walk from the apartment building to KLCC, where the train station is at.
In the morning, there are stalls selling food and drinks (otherwise known as warung or gerai makan in Malaysia) being set up and you'll see a lot of locals, even corporate people in suits, having their breakfast and coffee here. We didn't get a chance to sit down and dine but I definitely regret not having at least one meal here.
At night, there will be around two to three food trucks that park themselves at the front of the slip road and these trucks sell food too! There is a bigger establishment near Ampang called "Tapak Urban Street Dining" but if you're looking for convenient food while staying at this apartment, these food trucks are great!
Fazwan and I came here twice and brought the food back to the apartment for supper. The vendors were really friendly and the food were affordable and yummy too! We tried the jumbo hot dogs and I also bought the Teh O Ais (which simply means Iced Tea) which were amaaaazing especially after stuffing yourself with greasy food.
The KLCC or the Petronas Twin Towers peeping through the buildings. This stretch of road is also where you can find local supermarkets or mini-marts that stay open for 24 hours. There are also a lot of coffee chains around this area (probably due to the offices around these high rise buildings) and also a few pubs / bars down the street - if that's your scene - so it can get pretty noisy during the weekends.
Some of the food stalls that we saw that the morning actually stayed opened throughout the entire day. This area was only a five minutes walk back to our apartment but I dreaded the high slope that came with it. Another point to note is that the place is kinda secluded because despite being in the city centre, the apartment is location within a residential area with a few new buildings that are still undergoing construction - meaning it is pretty empty in the middle of the night. Best to not walk these streets alone, just in case!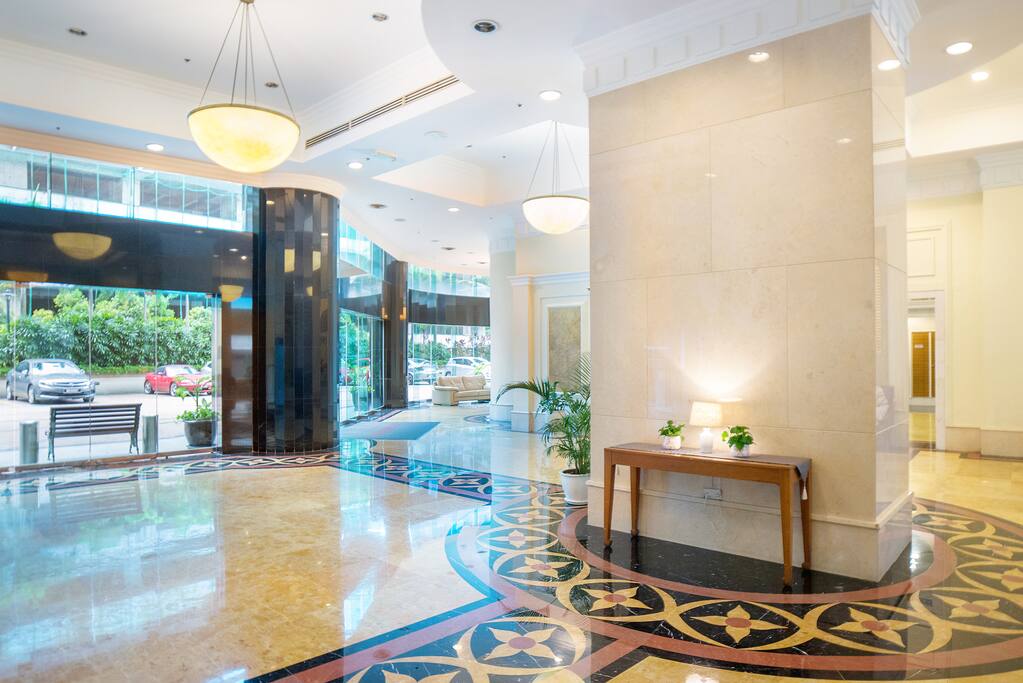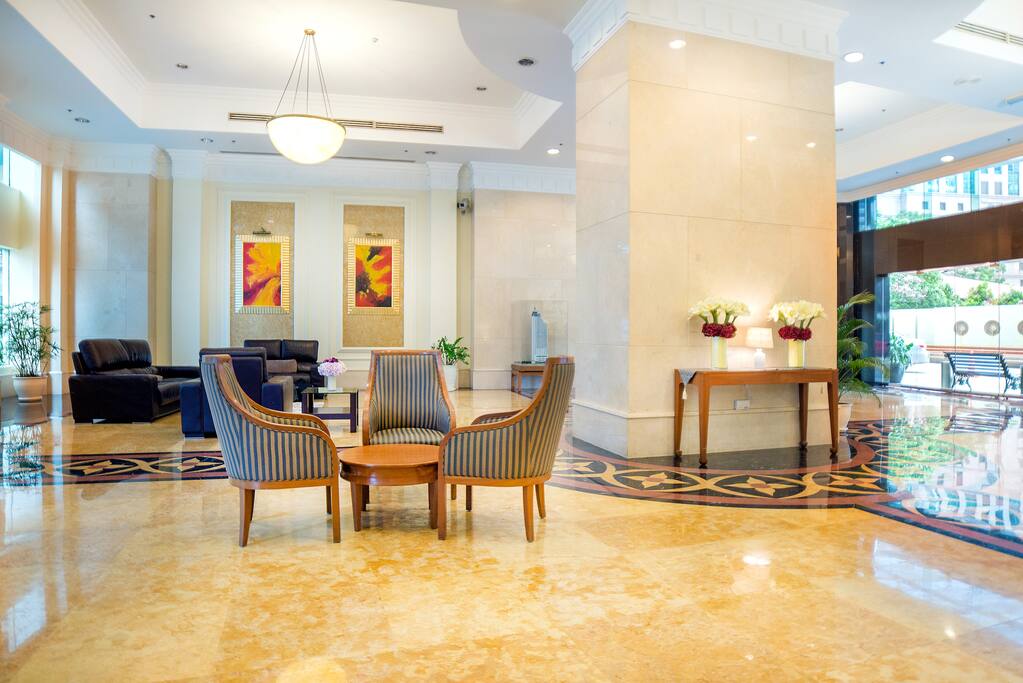 We spent a lot of time in the lobby while waiting for our Grab cars to come and pick us up from the front of the building. There's no wifi (if that's what you're wondering) because this is not a hotel. I realised there's always a security guard at the lobby but don't expect any of them to help you though, they couldn't care less actually. After all (again) this is not a hotel concierge. Hahaha.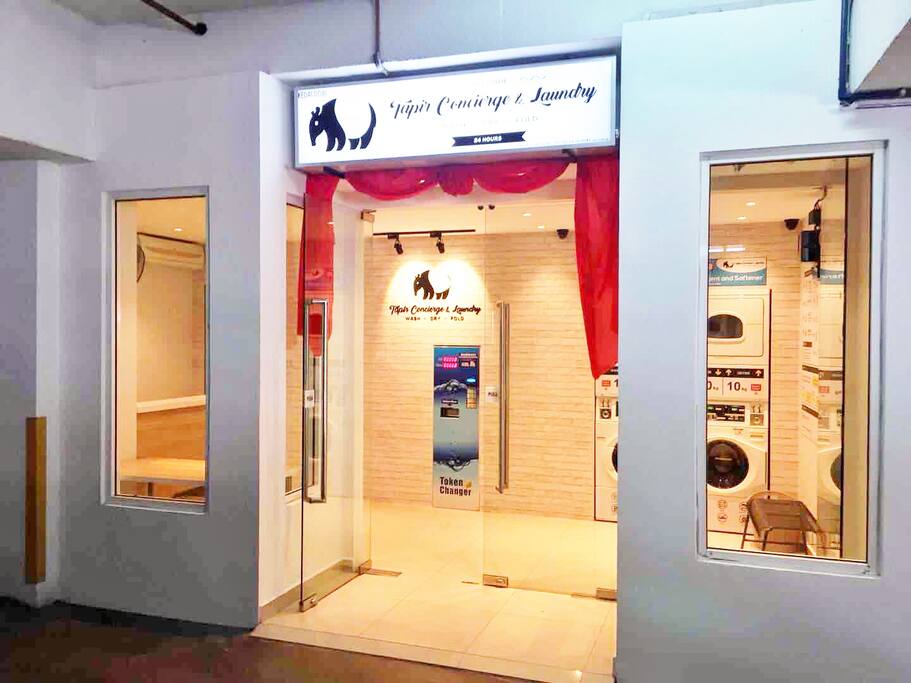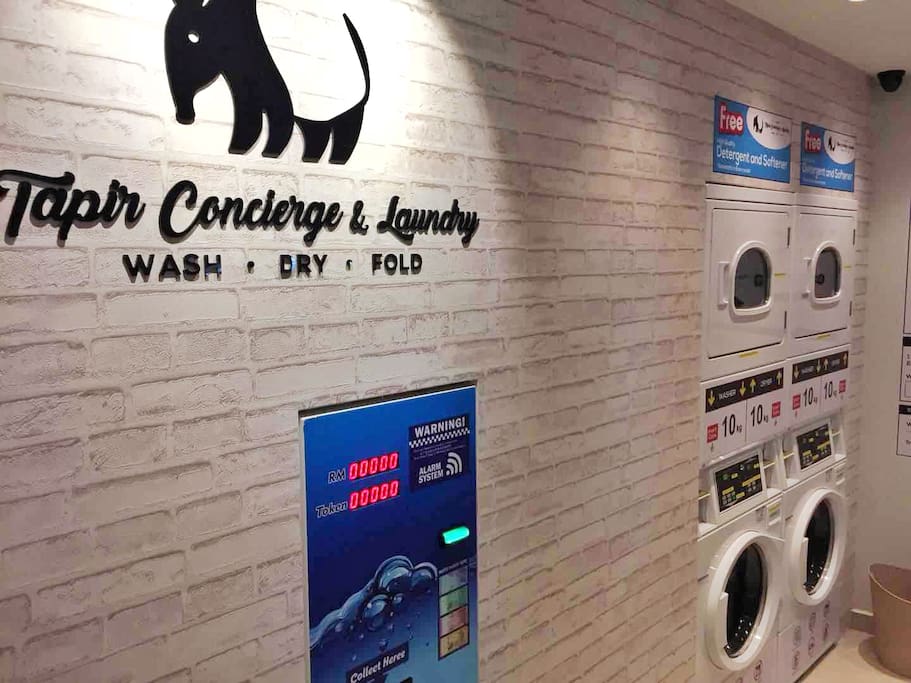 There is a laundry service at the basement of the building, but this is chargeable at a minimal basis - only detergent and softener is provided free. This is irrelevant with the apartment that we booked because there is a washing machine provided in ours but I thought I'd just mention this to include all the amenities in the building.
The Apartment Space
Moving on to the main highlight of this post - the actual living space! I usually put a lower expectation when it comes to guest houses or bed and breakfasts but we were so pleasantly surprised when we opened the door because the space looked exactly like the pictures.
It has this studio apartment concept so everything is just in one room, but I honestly think that the owners have decorated it pretty well. There are quite a number of other apartments in the same building listed in Airbnb but this is one of the prettiest.
Utensils provided and the table was even set upon arrival.
Personally, I loved the huge windows with natural lighting. It was the click bait that made me view this listing and finally booked it. It has that reading nook vibe, don't you think?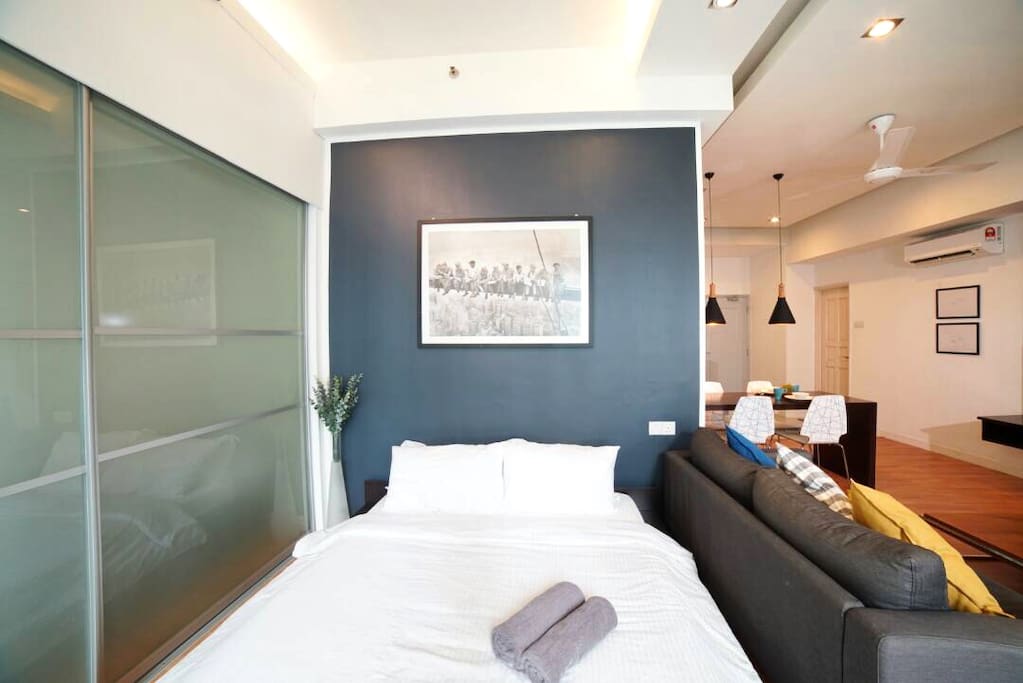 The sliding doors provide some wardrobe space for your clothes and also has a hidden dresser and ironing board inside it. The bed is pretty comfortable and the sofa acts as an extra sleeping space if you were to have a third guest over - no extra charges for that, if I'm not wrong.
The TV area where we spent most nights eating supper while watching some old movies. There is a box of DVDs under the TV but most of them were either outdated or in Mandarin. We intended to purchase some newer ones but couldn't find any that are recent enough from the night market.
All of the remotes on the coffee table, together with the wifi information.
Some snacks provided for us upon checking in.
There isn't anything much to say about the toilet - it's pretty basic (no bath tub) but a toilet and shower with a working water heater is good enough for us.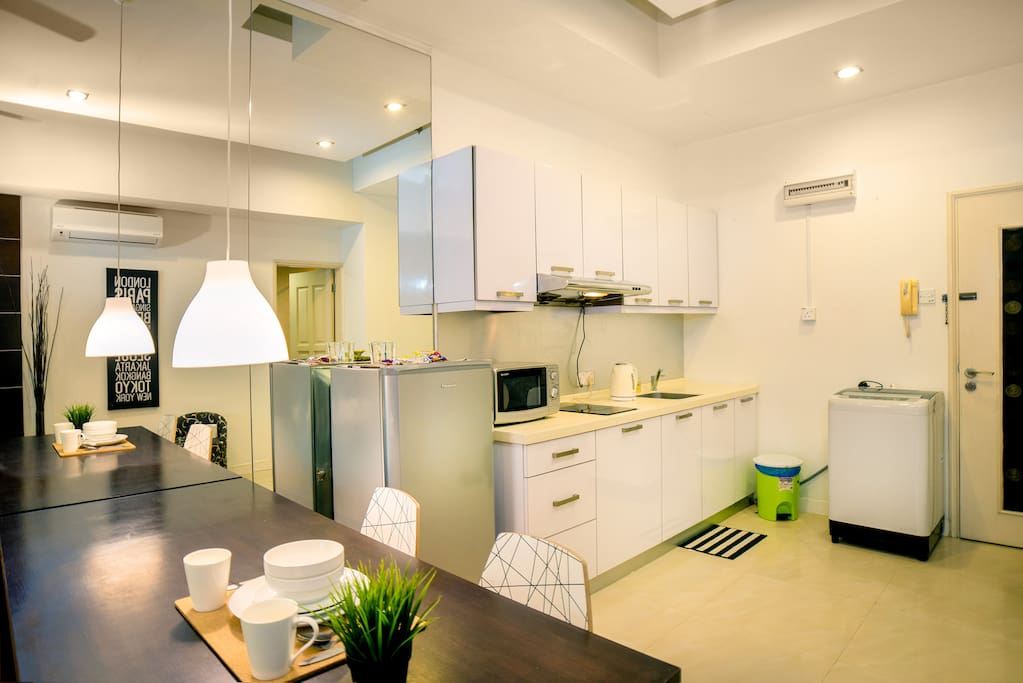 A fully equipped kitchenette / service area that came with a hybrid washer + dryer, a sink, an electric stove, a kettle and lots of utensils that you may need. Our favourite? The microwave oven to heat up our food from the night markets. Hehe.
The Gym
We didn't pay the gym a visit but we did go past it during our visits to the swimming pool. It is free for any resident to use but you cannot enter if you are drenched or are not wearing proper attire - these are pretty basic rules for any gym. There isn't anyone that mend the area but there are CCTVs in place to monitor the space.
It's fairly empty, probably because it's not a commercial gym like Anytime Fitness or Fitness First and only residents of the apartment can utilise it. It's nothing spectacular but it has most of the machines that you may need. Apologies for the horrible quality though, I snapped these in a spur of the moment using my under-maintained phone, but this photo of the gym below is from the Airbnb listing.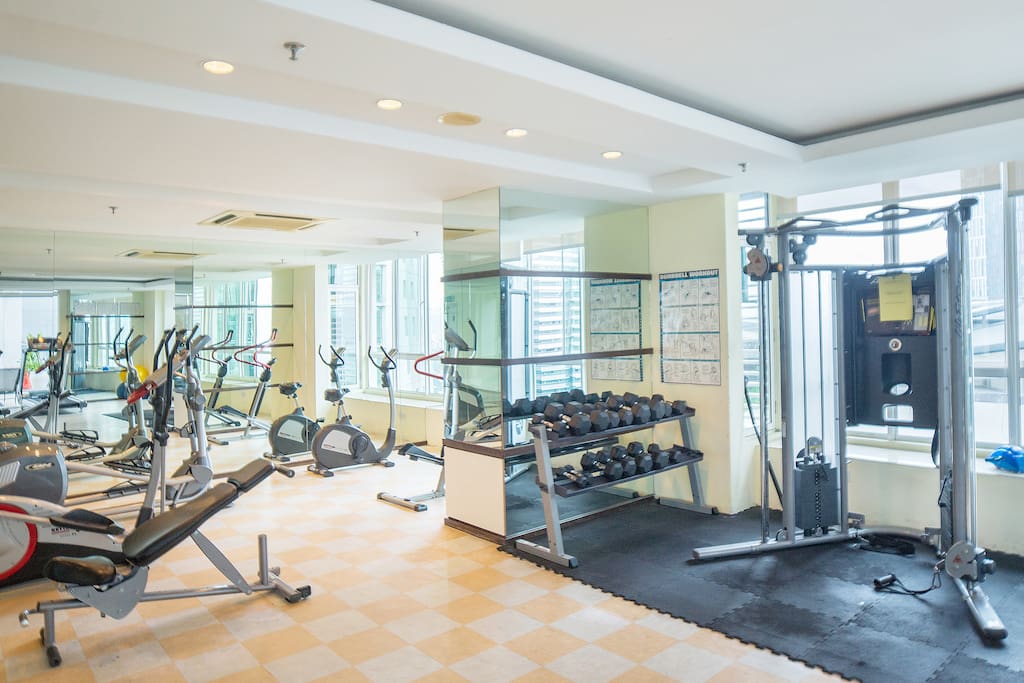 The Swimming Pool
We visited this space on the third day, after we spent the morning hiking Bukit Tabur. It was a really great way to cool off, especially with this humid weather. There aren't any lifeguards on duty though, so you really need to be careful and swim at your own risk.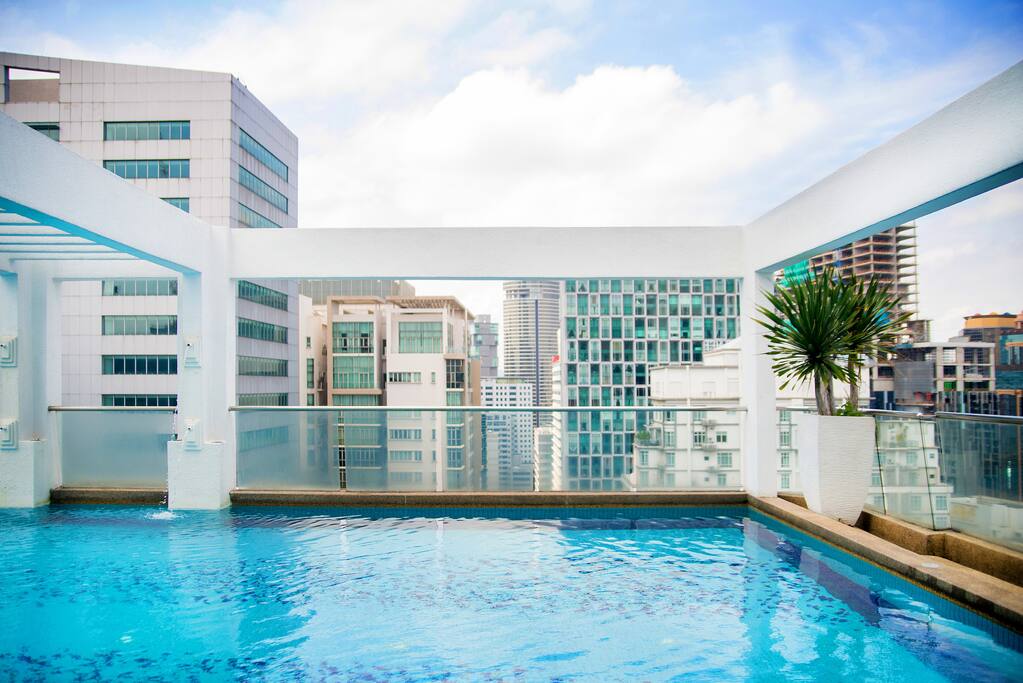 There are some deck chairs at the side and a separate seating area that you see here, which is sheltered. There is a staircase beside the seating area that leads to another level - that's where the hot tub is at. I doubt anyone would utilise it with this crazy humid weather hitting Singapore & Malaysia but if you ever need it for a chilly night, it's there.
From one side of the pool, you can find the Menara KL peaking through the skies!
What we liked
The hosts and their excellent level of service and dedication to their tenants. Their on-point photos on their listing, this is so important especially for shared living spaces like Airbnb - I can't emphasise on this enough. The space is really, really clean and the natural lighting was amazing. The location is really really convenient and there are a lot of food options, no matter what time of the day it was.
What we didn't like
There was construction going on at the building that's directly facing our apartment - so this can be a pet peeve for some, especially if you're a light sleeper. The windows are really huge so when it rains, it can get pretty scary. The slope leading towards the lobby is super steep and some Grab drivers will tend to wait outside of the apartment just to avoid having to deal with security.
All in all, I think we really got lucky with the apartment because it was out of our comfort zone - we've only always stayed in hotels when we're in Malaysia - but this is definitely a good experience to kinda change our perception for once. If you are interested to give Airbnb a try for your next trip, click here to receive SGD62 worth of travel credit for your first booking!
♥
This review was not written under any pressure, endorsement or sponsorship of any of the parties mentioned, and was written under my own initiative. All information displayed are accurate at the time of posting.